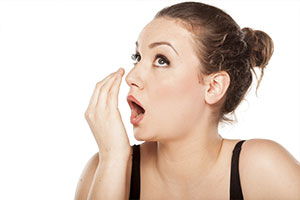 If your dentist determines that your mouth is healthy and that the odor is not of oral origin, you may be referred to your family physician or to a specialist to determine the cause of the odor and for treatment. Of course, if the odor is of oral origin, as it is in the majority of cases, your dentist can treat the cause of the problem.
If the odor is due to periodontal (gum) disease, your general dentist can either treat the disease or refer you to a periodontist, a specialist in treating gum tissues. Periodontal (gum) disease can cause gum tissues to pull away from the teeth and form pockets. When these pockets are deep, only a professional periodontal cleaning can remove the bacteria and plaque that accumulate. Sometimes more extensive treatment is necessary. If you have extensive build-up of plaque, an invisible layer of bacteria, your dentist may recommend using a special antimicrobial mouth rinse.
Your dentist may also recommend that when you brush your teeth, you also brush your tongue to remove excess plaque.
Questions? Call us at (917) 410-6164 or Contact Us and we will be happy to answer your questions and schedule an appointment.
Go Back