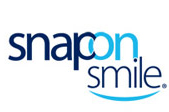 With cosmetic dentistry the main focus is on improving a person's smile. Most people find that they have more confidence if they have a better smile. That confidence tends to elude those who feel that their teeth have too many gaps or that their teeth are too crooked. Thankfully, cosmetic dentistry is there to help fix all of the problems with crooked or missing teeth. There are several ways that this can be done including snap-on smile devices.
Probably one of the best ideas to hit the cosmetic dentistry field is that of the snap-on smile. It is a device that looks just like teeth and is created using a mold of your teeth so that it will snap on perfectly over yours. It is an instant fix for any teeth gaps and crookedness you may have. Therefore, the perfect smile is just a snap away. The best part is that, should you ever decide you no longer want your new smile, you can just take the device off and you are back to your old self. The same cannot be said for other methods that you can use to fix your smile. The cost of the snap-on smile is comparable to the cost of braces, but without the pain and hassle that comes along with braces.
Questions? Call us at (917) 410-6164 or Contact Us and we will be happy to answer your questions and schedule an appointment.
Go Back